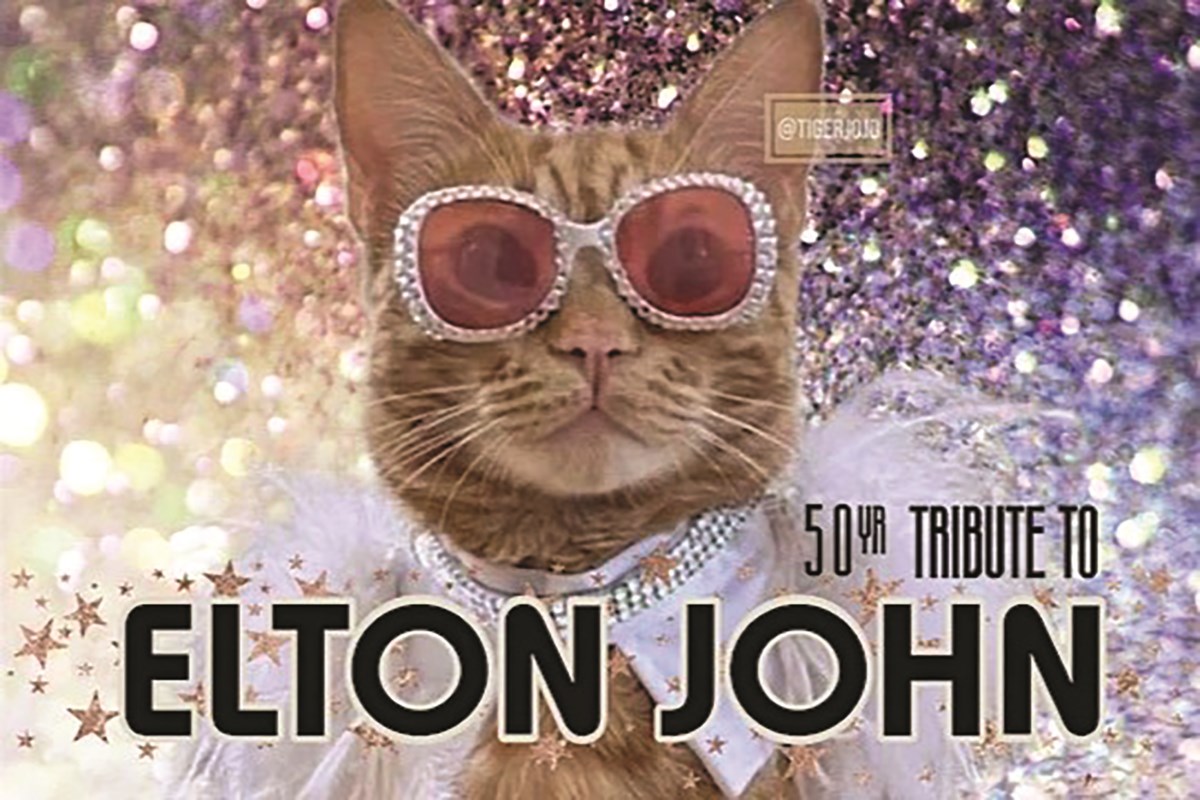 Crossfield Cat Rescue Shelter to Host Elton John Tribute Fundraiser
"You can close your eyes and think you're listening to Elton John, then it's going to be a good party. He dresses like Elton John. He sings like Elton John. He puts on a real performance."
Crossfield-based animal rescue shelter Tails to Tell is preparing to host its biggest fundraiser since the start of the COVID-19 pandemic in 2020 – a tribute to 50 years of music by Elton John – in favor of cats and kittens, at the Airdrie Town and Country Center on October 1st.
Rob Skeet and the four-piece band Husky Tower will sing classics such as "Saturday Night's Alright for Fighting", "Rocket Man", "Bennie and the Jets", "Tiny Dancer" and other beloved John hits.
Tails to Tell Board Member and Financial Secretary Colleen Holden says the evening will be full of fun, music and laughter.
She said the evening would begin with conversation and cocktails from 6 p.m., alongside a chance to bid on a silent auction item in support of the nonprofit.
"We have a lot of items in the silent auction, about 50 or more items and it's going to be good," Holden said.
A pub-style dinner will begin at 7 p.m. consisting of wings, ribs and vegetables followed by an array of "delicious desserts." Afterwards, Skeet and his gang will begin the Elton John tribute at 8:30 p.m.
"I heard the guy play – he's absolutely amazing," Holden said of Skeet and his band. "You can close your eyes and think you're listening to Elton John, then it's going to be a good party. He dresses like Elton John. He sings like Elton John. He achieves a real performance.
"[The band is] really good and [Skeet] did a lot of costume changes," she added with a laugh.
Holden said the board hopes the upcoming event will be the charity's biggest fundraiser yet. She encourages guests to purchase tickets while they are still available, until September 28 the eventbrite.ca for $75 each.
She said the money raised from the tickets will go towards some much-needed veterinary and operating expenses, amid a continued increase in demand for the Crossfield shelter's services.
"The shelter really needs it. We've had so many kittens and takes this year," she said. "All the shelters are suffering right now because of the volume of kittens and admissions we've had to do, the dropouts we've had to do this year."
She added that a second fundraising event is scheduled for Oct. 16, a Kitty Palooza Adoption Campaign, to be held at the Best Western Hotel on the Edmonton Trail in Airdrie.
The July 31 shelter's previous event, also held at the Best Western, was a huge success with the help of the host establishment and volunteers, and according to Tails to Tell representatives, the event saw 20 kittens receive fur forever.
"Last time it was kittens, and this time it will be both kittens and cats," Holden said of the Oct. 16 event.
According to Holden, cats and kittens that enter Tails to Tail have a permanent home at the shelter, even if they are not adopted, unless they are required to be euthanized for medical reasons.
"We have quite a few cats that have forever homes, but we are a non-profit organization and we [operate] strictly by donation," she said. "We don't have a corporate sponsor.
Although the shelter is currently in Crossfield, she said the charity hopes to move its home base to Airdrie or a larger facility to better accommodate its growing number of kittens and cats.
According to Tails to Tell representatives, 80-85% of dropouts and adopters are from Airdrie. Holden said the short trip south could also present other sponsorship opportunities.
"The facility we have is old and it's way too small for us, and there are some issues with it, so we'd like to move," she said. "But [currently] we exist on donations and the fundraising committee has worked very hard this year to raise funds – it's probably the best year we've ever had.
She added that while Tails to Tell has seen record adoptions and donations, they have also seen a large number of takings (over 200 kittens) that require care.
"By February, we're looking at a $20,000 vet bill and that's just for spays and neuters," Holden noted.
"It's for nothing else, and it just includes the cats we have to date. It doesn't include anything we're going to take by then.
Holden said the shelter's veterinary bills average $10,000 a month.
"That's another reason why we need this big fundraiser," she concluded.