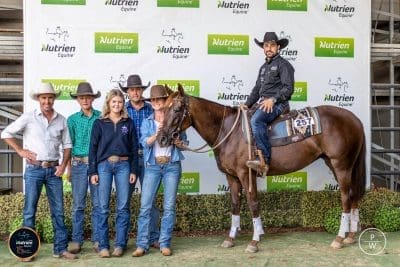 Qld producers buy cattle horse for record $260,000
A well-known family of Queensland ministers broke a camp drafting record by purchasing a two-year-old mare for $260,000.
Chinchilla's Peter and Shari Knudsen outbid the rest of the field, buying Yaven Champagne Romance from southern New South Wales breeders John and Jenn Corbett at the Nutrien Equine Classic sale at Tamworth yesterday.
Several bidders were in the market for the mare up to $200,000 before she was narrowed down to three bidders, with the Knudsens sealing the deal.
The record was in line with pre-sale forecasts, with many predicting record cattle prices would trickle down to horse sales (see previous Beef Central article here).
Yaven Champagne Romance was sired by American quarter horse Metallic Cat who sired $49 million worth of horses and the dam was One More Romance – who comes from one of the most productive dams of Australian performance horse One More Spin.
The Corbetts have had success at the Nutrien Classic before, with Yaven Smooth Spin selling for $230,000 in 2019. Mr Corbett said the latest success was nice for the family.
"We're thrilled, we've really thought about her a lot, she's a beautiful mare," he said.
Yaven Champagne Romance will be added to Knudsen's breeding and competition program, which includes campdrafting and trimming.
"It's really exciting for our family. We have a long history with her as we missed her as a yearling so very happy to be able to bring her home now," Mr Knudsen said.
The Corbetts have another colt up for sale, with bidding ending on Sunday.